2020: The Year In Review
I think we can safely say that this past year will be remembered for decades to come as the most disruptive year the world has endured since the Second World War. But we all made the best of it that we could, including the members of the Miataphiles of London. Read on for a review of the Miataphiles events from the past year.
Canadian International AutoShow
Friday, February 14, 2020
Location: Metro Toronto Convention Centre, Toronto, Ontario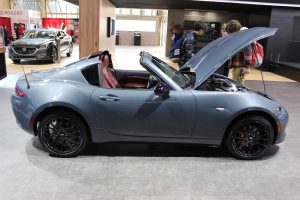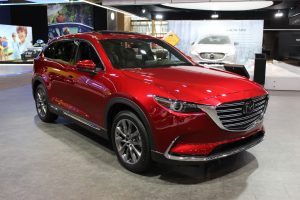 The year started out on a great note with a road trip to the 2020 Canadian International AutoShow in Toronto. Once again, Mazda Canada kindly offered us Industry Day tickets which allowed us to get into the show a few hours before the doors opened to the public. Members John New (the driver) and Randy Lidkea got up at the crack of dawn to make it to Toronto by the time the doors of the Convention Centre opened at 9:00 a.m.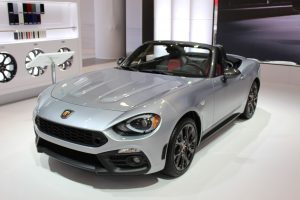 Most of the major car manufacturers were in attendance this year. As in previous years, this show did not disappoint: on display were cars for every walk of life and for every purpose, as were the concept cars, classics new and old and the uber-expensive hyper cars. New for this year's show was the ability to test drive an electric vehicle from a dozen different manufacturers. Also on display were cutting-edge technological prototypes, including hydrogen-powered cars and drone delivery vehicles. Mazda's latest and greatest models were there too, including the new MX-30, a hybrid compact crossover SUV, and our favourite, the MX-5 (although in a not-so-flattering colour).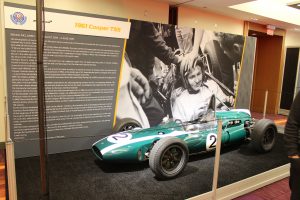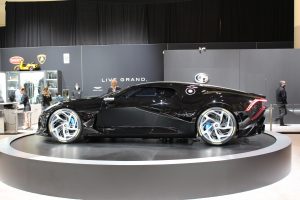 Some of the other highlights of the show were Auto Exotica, featuring some of the most beautiful hyper cars in the world; the Oblivion Car and Culture Show, celebrating the newest crop of classic cars from the '80s and '90s; a tribute to McLaren Racing, which was inducted into the International Category of the Canadian Motorsports Hall of Fame; and Cobble Beach Classics: The Disruptors, showcasing fifteen of the the most iconic cars of the 20th century with the most important events of the 20th century as the backdrop.
Blahs Bash
Saturday, February 15, 2020
Hosts: John & Lisa New
Location: Hazelden Manor, London, Ontario
Hot on the heels of the AutoShow was the annual Blahs Bash hosted this year by John & Lisa New at their home at Hazelden Manor in London. This time, we decided to try a pot luck format and it was a great success; the variety of entrées, sides and desserts was phenomenal and oh-so-tastey! Twenty-two members, new and old, were in attendance and all had an enjoyable time.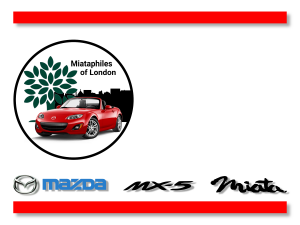 Of note, the redesigned members' badges with the new club logo were distributed to everyone at the party. The new logo was created by members George and Rianne Wiendels, and was chosen by the membership in a design contest held in 2019 (for which they won the 2019 Test Drive A New MX-5 For A Week prize).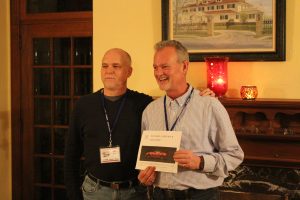 There were of course door prizes! The prizes and winners were:
Test Drive A New MX-5 For A Week from Mazda Canada – Glen Hall, auctioned to Craig Read
$50 Gift Certificate to Buffers Auto Care – Mike Godwin & Catherine Fraser
Lucas Slick Mist Detailing Kit (Donated by Brad & Darla James) – Lionel & Valerie Hurst
The most exciting part of the prize giveaway was the MX-5 Test Drive. After several members declined the prize, it finally went to Glen Hall. But, Glen immediately auctioned the prize away in return for a donation to the LHSC Dash 4 Dad walk for Prostate Cancer Research. It was a pitched battle between members Brad James and Craig Read, but in the end Craig snagged the MX-5 Test Drive for a $250 donation to the charity. Thank-you Glen and Craig!
Game Day
Saturday, March 14, 2020
Host: Dick Sorrentino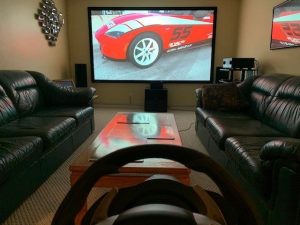 Enough people pestered Dick Sorrentino to have another Game Day at his place that he organized an afternoon of virtual racing. In Dick's "Man Cave," there is a fantastic racing sim setup which includes a surround sound system, a 109″ screen, a Ferrari Racing Wheel and pedals, and a Forza 6 racing game on an Xbox One.
Six members met beforehand for lunch at nearby Fionn MacCool's before making their way to an afternoon of virtual motor car racing. The less-than-professional calibre of the racing led member Randy Lidkea to post that he was glad that he wasn't riding shot-gun in a few of those cars.
Top Down Drive
Sunday, June 14, 2020
Host: Phil & Linda Hooper
After three months of pandemic lockdown, it was evident that everyone was anxious to return to some sense of normalcy. When the public health restrictions relaxed sufficiently in June to mount a socially distanced drive, members Phil & Linda Hooper stepped up and organized the First (hopefully Annual) Top Down Drive.
Phil pre-ran the route on the Friday before the tour to make sure all the roads were open, as he had noticed that there was still a lot of roadwork going on. While he found three construction zones, only one forced a detour, but the alternate route turned out to be better than the original! Phil provided hardcopy route handouts, with turn by turn instructions and point-of-interest notes along the way; John New digitized the route for smartphones and GPS devices. The combination of paper and digital directions meant the driver could concentrate on the route while the co-driver could keep track of the points-of-interest.
At 9:00 a.m on Sunday, thirty-one members in sixteen cars gathered at, how shall I term this, the facility where Phil & Linda store and maintain their collection of cars. While enjoying the coffee, cookies and muffins so generously provided, Phil led us on a tour of his very impressive automobile collection. By 9:30 we were off.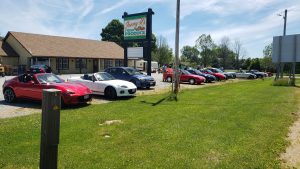 The route totaled about 230 km and ran a little under 4 hours, including about an hour to stop for lunch. Phil predicted that, "the roads will reacquaint you with the other function of the steering wheel beyond being a hand hold. Some nice scenery as well." Well, the roads south of London towards Port Rowan did not disappoint, providing some great opportunities to wind out our engines to redline!  We stopped halfway for lunch at Jenny K's Fresh Produce, just west of Port Rowan, a large roadside farmers market which had excellent baked goods in addition to the usual fresh farm fare. The parking lot was large enough to hold all of the cars and members for a bit of much-needed, socially distanced conversation while having lunch and refreshments before leaving on the route home back to Phil & Linda's.
The weather was warm and sunny, the roads open and the friendship grand. Just what was needed.
Track Day
Wednesday, July 15, 2020
Host: Dick Sorrentino
Location: Grand Bend Motorplex, Grand Bend, Ontario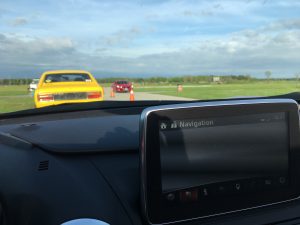 Several times a summer, member Dick Sorrentino goes to the Grand Bend Motorplex to track his MX-5 and invites other members to join him. This past summer was no exception, although he only made it out once. Dick reported that, "it was a wonderful evening! Weather was perfect, track great, and I had lots of fun. I even passed a couple of cars!"
Lunch in Port Rowan
Friday, September 11, 2020
Location: Port Rowan, Ontario
Host: Glen & Lynne Hall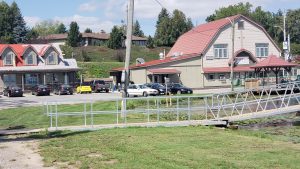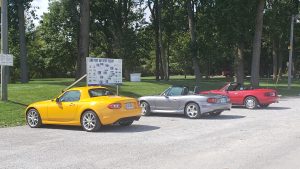 Members Glen and Lynne Hall planned a drive for a take-out lunch from the Boat House Restaurant in Port Rowan as they had done on their own about a month previously. Not knowing how many more decent days there would be for a drive and facing the possibility of another shutdown, the News, Lidkeas and Halls met at the St. Thomas Airport on the Friday morning and set off on a back road adventure to Port Rowan. After about an hour's drive, the three cars arrived at the restaurant and parked at the nearby covered pavilion, where there were eight nicely spaced out picnic tables. We all ordered lunch from the car by mobile phone and then walked over to the restaurant pick up window. The perch basket was the recommended favourite on the menu and it was delicious!
Fall Color Run: One last try?
Saturday, October 10, 2020
Location: Goderich, Ontario
Organizer: Dick Sorrentino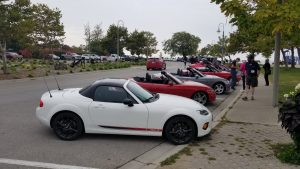 Fall Color Run: One last try? was the topic title of the fourth event topic Dick Sorrentino created for this outing. Why? Because this event almost didn't happen. In fact, it had 3 different dates, was cancelled 3 times and had two different destinations. Dick originally scheduled a Fall Colour Run for Sunday, October 4th. About a week later, Dick morphed the run to Goderich into a club-wide entry into the Cinderella's Carriage Car Show in Port Elgin, as part of Pumpkinfest. When that show was cancelled due to COVID-19, we reverted to the original plan. However, at this point, it was the weather that was being uncooperative; after changing the date a couple of times, we finally managed to get enough good weather so that nine of us could go to Goderich on Saturday, October 10th.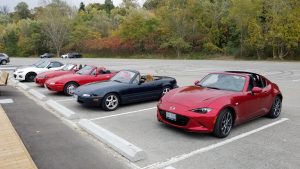 While the weather was on the cool side, there was sufficient sun to make the trip worthwhile. Upon arrival in Goderich, the wind picked up a bit which made it chilly. However, once we drove to the picnic area further down the beach, the wind died down and we broke out the chairs and picnic lunches we had all brought and had a wonderful, socially distanced gathering. Towards the end of lunch, overcast skies threatened rain but luckily held off until most of us had gotten home. Member Andrew Finnigan remarked in a forum post, "Weather held on for us. Well I got some rain 30 mins before home [Waterdown, Ontario]."
The Miataphiles of London Forum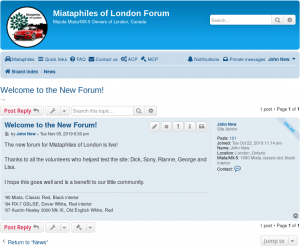 In October 2019, Yahoo! announced that Yahoo! Groups, the preferred method used by the Miataphiles of London (and literally over a hundred million other accounts) to organize events and communicate with one another, would be imminently discontinued. Scrambling to find an alternate way to stay in touch, it was proposed that the group use a new way to communicate, namely, a forum. On November 5th, 2019, after a couple of weeks of testing by a small group of members, the Miataphiles of London Forum came online and was an immediate hit with members. By the end of 2020, there were 60 accounts that had made over 800 posts in more than 100 topics in 5 forums. A great success by any measure.
Though the forum was popular, it hit a few bumps in 2020. In May, the hosting provider micfo suddenly went offline due to financial difficulties, taking with it thousands of hosted websites including those of the Miataphiles. Working feverishly around the clock with superhuman effort, John New restored the sites from backups within a couple of days. Not to be outdone by May, December decided to step up and corrupt the database that runs the forum software. Once again the site admin leapt into action with skill and prowess [Editor: Alright, enough], getting the sites back online within a day.
2020: Good Riddance
Even though the pandemic forced us to reduce the number of events that we held, the members of the Miataphiles of London made the best of a horrible year, running events where possible and continuing to keep in touch with one another through the forum.
Here's to 2021. May it be so good that we forget, at least a little bit, the year that was 2020.